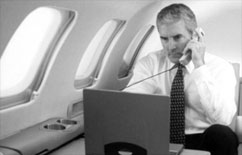 The SJ30 is the first light jet that can fly non-stop New York to Los Angeles, giving you unparalleled flexibility and agility in your business and personal life. Your performance on the ground is linked to your jet's performance in the air.

The SJ30's ability to fly faster and at higher altitudes of up to 49,000ft gives you the freedom to fly above the weather, avoid traffic congestion and fly a more direct route to your destination.

The SJ30 is the only light jet that maintains a sea level cabin at 41,000ft. Fly non-stop from New York to Los Angeles and arrive in peak form to tee off at The Brentwood Country Club at 7:00am.

On board its business as usual, the elegant cabin environment is created with you in mind, designed in meticulous detail to enhance your journey. Extra wide full berthing seats with hide away work tables, full connectivity, computer ports and seat side telephone access, ensure you maximize your airtime.

Arrive at your destination refreshed, giving you an edge over the competition, and the energy to go that extra mile.